Skip to Content
Commercial and Residential Pressure Cleaning in Miami, FL
When you need to clean exterior surfaces, nothing is better than the pressure cleaning services offered by The Trusty Handyman in Miami, Florida. Certain exterior surfaces are challenging to clean, like driveways, siding, windows, decks, and wood fences. Pressure washing is the method used by professional facilities to keep them looking brand new even after years of use. Pressure washing is a great way to routinely clean any exterior surface of your house. Pressure cleaning is a necessity for businesses. A dirty building or an oil-stained parking lot can make your entire place of business look unwelcoming. Whether you need to clean your home or business, use someone you can trust.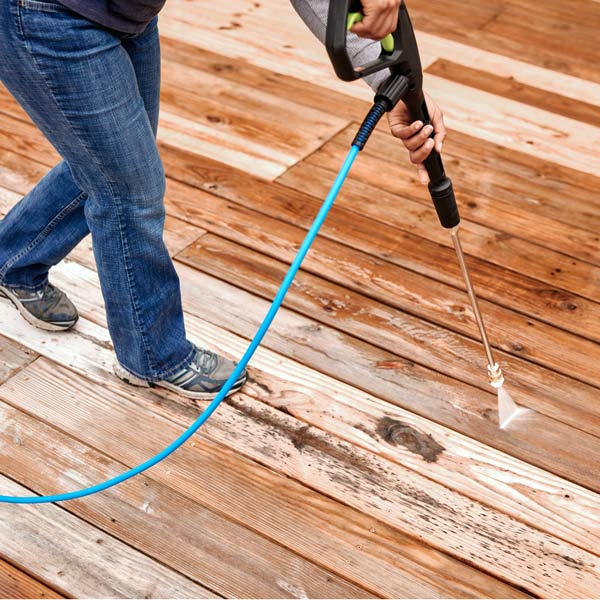 What Surfaces Can The Trusty Handyman Pressure Clean?
Many surfaces are ideal for The Trusty Handyman's pressure cleaning services. Most outdoor surfaces will benefit from pressure cleaning. It is ideal to use industrial-strength cleaning machinery to precisely remove years of grease, dirt, oil, and any other caked-on sources of mess. The only surface we don't recommend for pressure cleaning is your roof. However, the most common surfaces for pressure washing are:
Concrete, Asphalt, and Pavement
Windows
Siding
Wooden Decks and Fences
Outdoor Furniture
Pressure Cleaning Services for Your Home
Homeowners regularly turn to pressure cleaning to freshen up the appearance of their home's exterior. As the exterior surfaces of your home age, they become marred with all sorts of dirt and grime. Power washing removes all of this in the safest, most efficient way possible. Cleaning the siding of your house by hand could take weeks, and the results are typically much less impressive than professional power washing. From bringing your siding back to its original, vibrant colors to removing oil stains from your driveway, pressure washing is The Trusty Handyman's preferred method to clean the exterior of a home.
Pressure Cleaning for Businesses and Parking Lots
First appearances are everything, and nothing turns away new customers or clients like arriving at a filthy building or an unkempt parking lot. Even worse, oil-stained sidewalks and parking lots can be a liability for a place of business. So, keeping your commercial property pressure washed is a vital element of professional success. We make commercial power washing simple and hassle-free. Our team can pressure clean during your off hours to ensure your pressure cleaning services don't disrupt customers or clients. However, your commercial property will look cleaner than ever once we are done.
Speak With a Pressure Cleaning Expert Today!
Whether you own a house or a business, you need to keep your property clean. However, a lot of muck doesn't come off with simple elbow grease. You need professional power washing performed by a team of experienced professionals. This is the only way to ensure that your property is spotless without being damaged in any way. The Trusty Handyman is here to help. To start freshening up your property, call and speak to a person directly or fill out our pressure cleaning contact form here.